God of War Ragnarök – Collector's Edition
1,025.00 AED VAT inclusive
Also included in the Collector's Edition are the following digital items*:
Kratos Darkdale Armor**
Atreus Darkdale Attire (cosmetic) **
Darkdale Blades Handles for the Blades of Chaos**
Darkdale Axe Grip for the Leviathan Axe**
Official God of War Ragnarök Digital Soundtrack 
Dark Horse Digital Mini Artbook 
Avatar Set 
PlayStation 4 Theme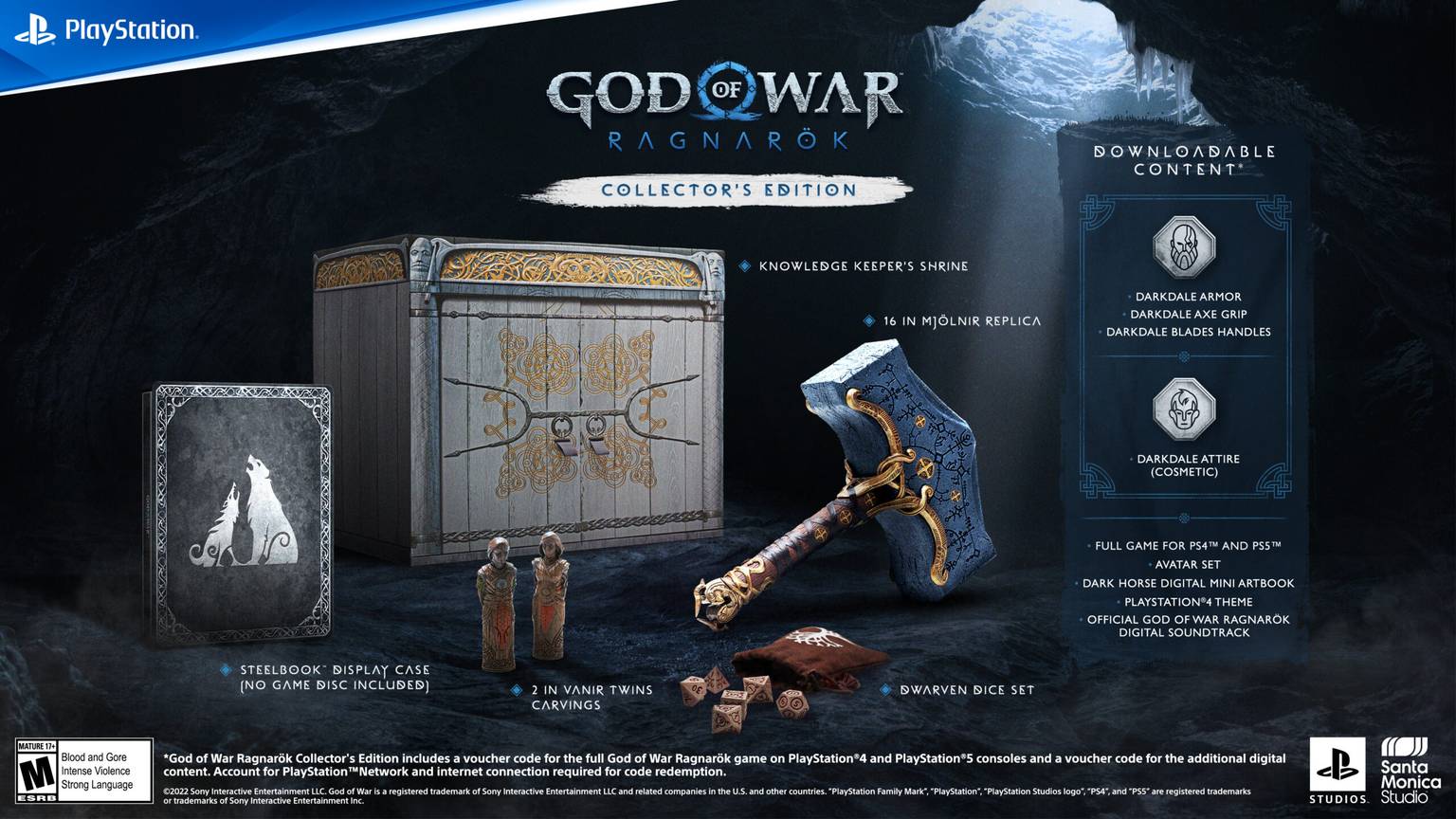 As you've seen in the above video, the God of War Ragnarök Collector's Edition comes housed in a beautiful box representing the Knowledge Keeper's Shrine. This shrine was of the triptychs that Kratos and Atreus came across in God of War (2018), depicting the tale of a powerful seer, the Giant Sorceress called Gróa, who was the first to have a vision of Ragnarök.
Opening the Shrine, you'll find the following:
Printed voucher code for the full God of War Ragnarök game on PlayStation 4 and PlayStation 5 consoles.* 
A Steelbook Display Case (no game disc included) – The God of War Ragnarök Steelbook Display Case depicts renditions of the Bear and the Wolf.
2" Vanir Twins Carvings – In the same style as Atreus' wooden toy carvings of the Huldra Brothers from the God of War (2018) Collector's Edition, the God of War Ragnarök Collector's Edition completes the set with carvings of the Vanir Twins.
Dwarven Dice Set – This set comes with a set of dice with a quality wood-like finish in a dice bag with a symbol of Yggdrasil on the outside.
16" Mjölnir Replica – A highly detailed replica of Thor's signature weapon from God of War Ragnarök.